/
Description
With the EHEIM precision heater your fish receive exactly the right temperature – in any aquarium.

Obvious ideas often are the best ones. For example, the aquarium heat-er as a rod. The heating rod is simply hung in the water and heats it. It is true that the principle is still the same as decades ago. But a lot has changed in the meantime. And today the EHEIM adjustable heater is an ultra-modern electronic thermal device with the best available tech-nology. A jacket made from special laboratory glass increases the heating surface, serves as a heat shield and ensures optimum even heat emission. And no matter if you want to heat a 20 or a 1000 litre aquarium – you have 9 sizes to choose from.

Benefits of the EHEIM thermostatic heaters
Precise temperature adjustment from 18 up to 34 °C
Simple and safe recalibration (±2 °C)
Temperature control accuracy ± 0,5 °C
Heat kept at a constant level
Heating function is indicated by a control lamp
Completely submersible (watertight)
With automatic dry run shut-off (Thermo Safety Control)
A glass jacket increases the heating surface and ensures optimum even heat emission
Handy cable length ca. 170 cm
Including double suction cup holder
9 sizes for aquariums from 20 up to 1000 litres
Suitable for fresh and marine water
Precision, ease of use, quality and safety "Made in Germany"
The EHEIM aquarium heater is a further development of the legendary heating rod.

The temperature can be precisely set from 18 to 34 °C and if required recalibrated (±2°). The temperature control accuracy is ± 0,5 °C.

The heat is kept at a constant level. The heating function is indicated by a control lamp

The rod is absolutely watertight, can be fully submersed, has an automatic dry run shut-off (Thermo Safety Control) and is suitable for fresh and salt marine water.
 
One of the most important innovations is the glass jacket:
-    It increases the heating surface,
-    condenses the heat, ensures optimum even heat emission and
-    forms a heat shield (touching it doesn't harm the livestock).

The jacket is made from special laboratory glass, which was developed for research purposes. Therefore it is free from pollutants that could be released into the water. It is resistant to chemical and biological  substances. It doesn't have any fissures and hair cracks through which conden-sation could penetrate. And even extreme fluctuations of temperature that can occur during a water change do not harm this glass.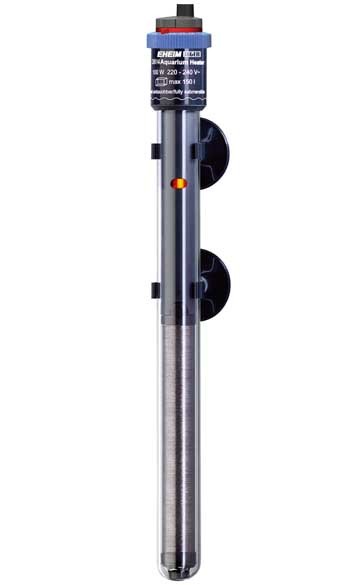 Payment & Security
Your payment information is processed securely. We do not store credit card details nor have access to your credit card information.